Busy today taking photos - over 500. Managed to start a painting in the morning and finish it once I got back from this Auckland Game Dev Meet Up. I've also included a painting that I started during my time in Highbury, but never finished it. I don't have the high res file of this so can't go back and finish it. Still, happy with the painting I did today. First up, the Highbury painting. The reference I used for this was a combo of Poringa and Napier sketches. Here's the reference I used:

Sorry for the small size. Having problems with the upload - stupid connection. The mix was simple on this - on the left a drawing I did during my time in Poringa and on the right, a drawing I did on the waterfront in Napier. I do enjoy waterfronts, but don't like swimming.

Line added. I didn't add anything to the line but rather just traced over. Looking at it I think I could of continued the fence posts at the top across - to mix the two drawings further. The bus in the center was extended somewhat to help this. Next up, some tone added:

Though it isn't finished I was happy with this tone. I had used a layer mask on it and hid everything - painting out the tone. I tried this technique again today but couldn't get it working - the color was very transparent. I'm not sure what I'm doing wrong with it. I'll try again in the next painting as the layer masks meant I could change the color to whatever I wanted - will make it much faster especially with recycling layer. Finally, here's the painting I did today: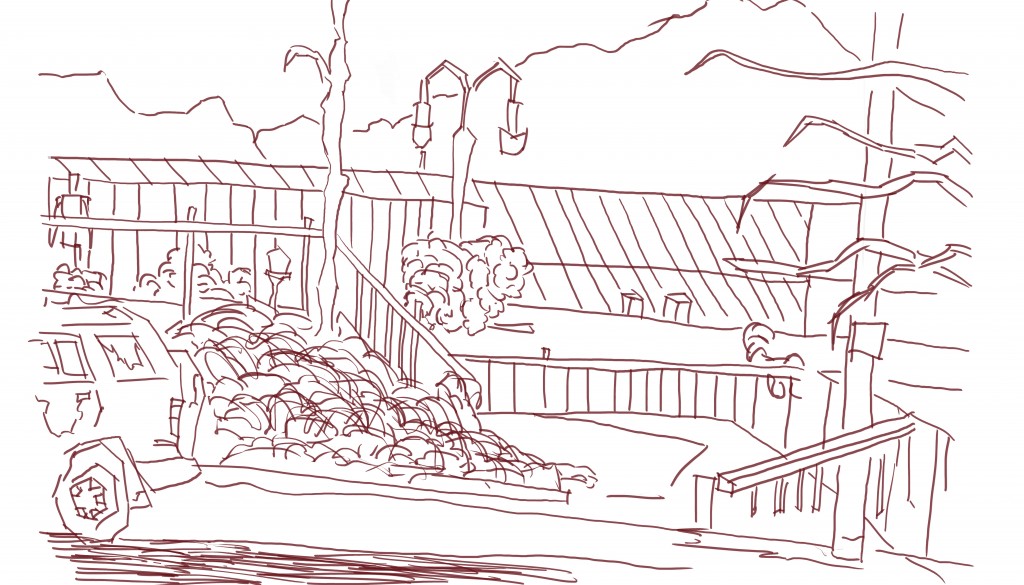 The reference I used for this is a pencil sketch drawn in Levin - at the skate park. I'll be back in Levin tomorrow so will try to get out and draw the town again. Despite being such a small town I always enjoyed getting outside and drawing. Normally I don't add so much line to the vegetation - but I did on this. Maybe I should have a go at using different colors for the line version? Getting layer masks working would help with this.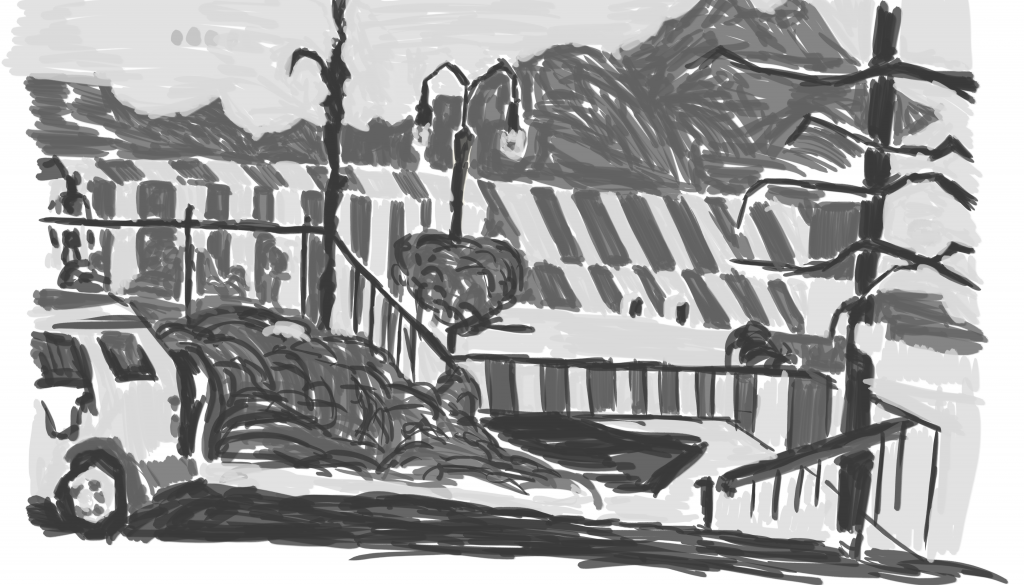 And tone added. I'm rather happy with this piece. I used the same brush on the whole thing, something that I should avoid. I guess using the same brushes causes me to have to use a range of different strokes in order to show the range of objects in the scene. The marks I did for the hills are completely different to the fence-posts and tiles on the buildings. Does the building need sharper edges? I decided not to do a color layer, though color can be added quickly.