Slight break between posts. I have been drawing though, but been travelling for the past week. I went down to Napier (where I mostly did reading since the weather was bad), and up to Auckland for a half day conference and got along to a bunch of meet ups at the same time. It's been a great trip but happy to be home to rest. Here is the artwork created during the trip.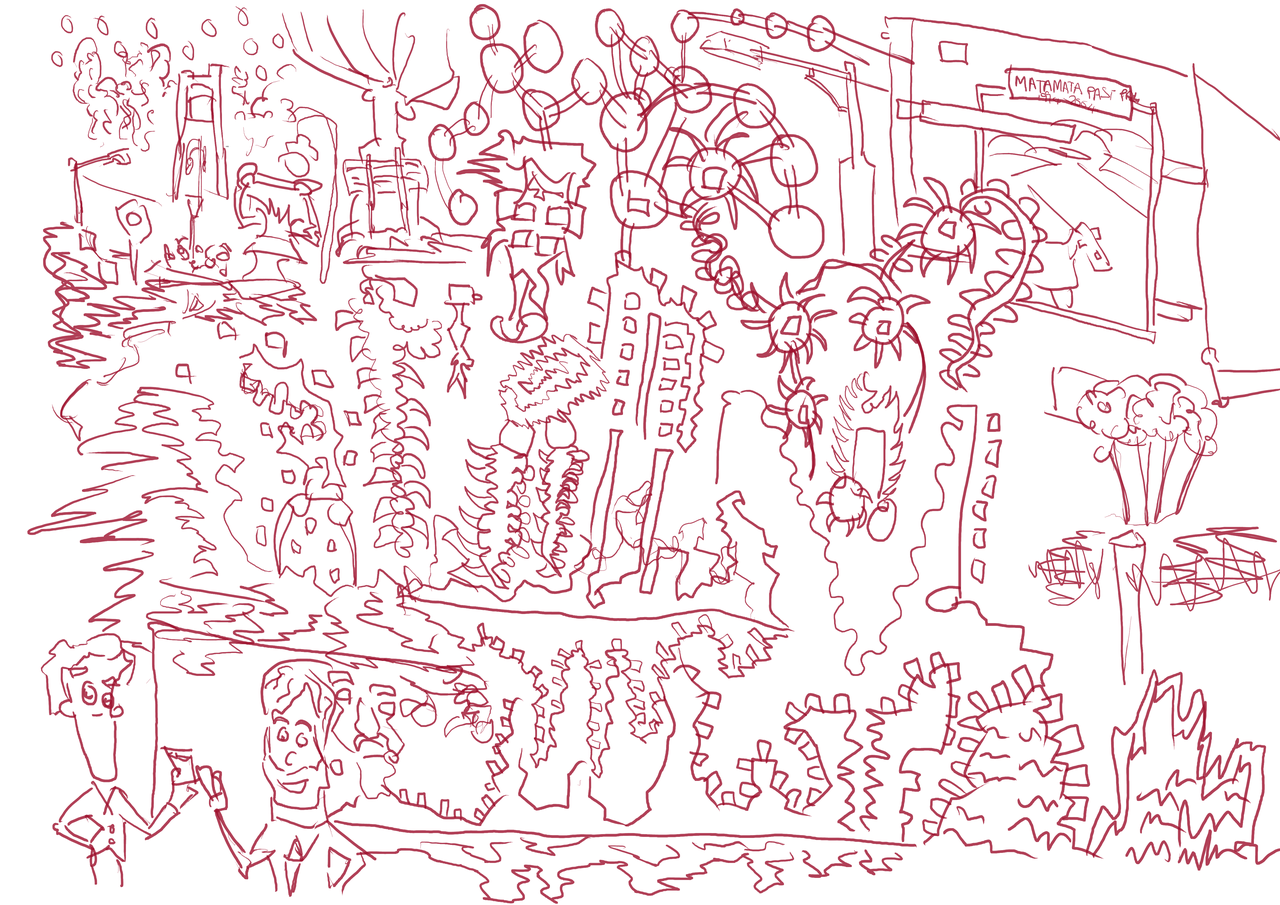 This was started before the trip. On the bottom left are two characters that were refered from Raspberry Pi artwork. The rest of the page has drawings of Matamata - a town I stopped by in for the day on the way to Napier. There is also the usual landscapes and spikes happening.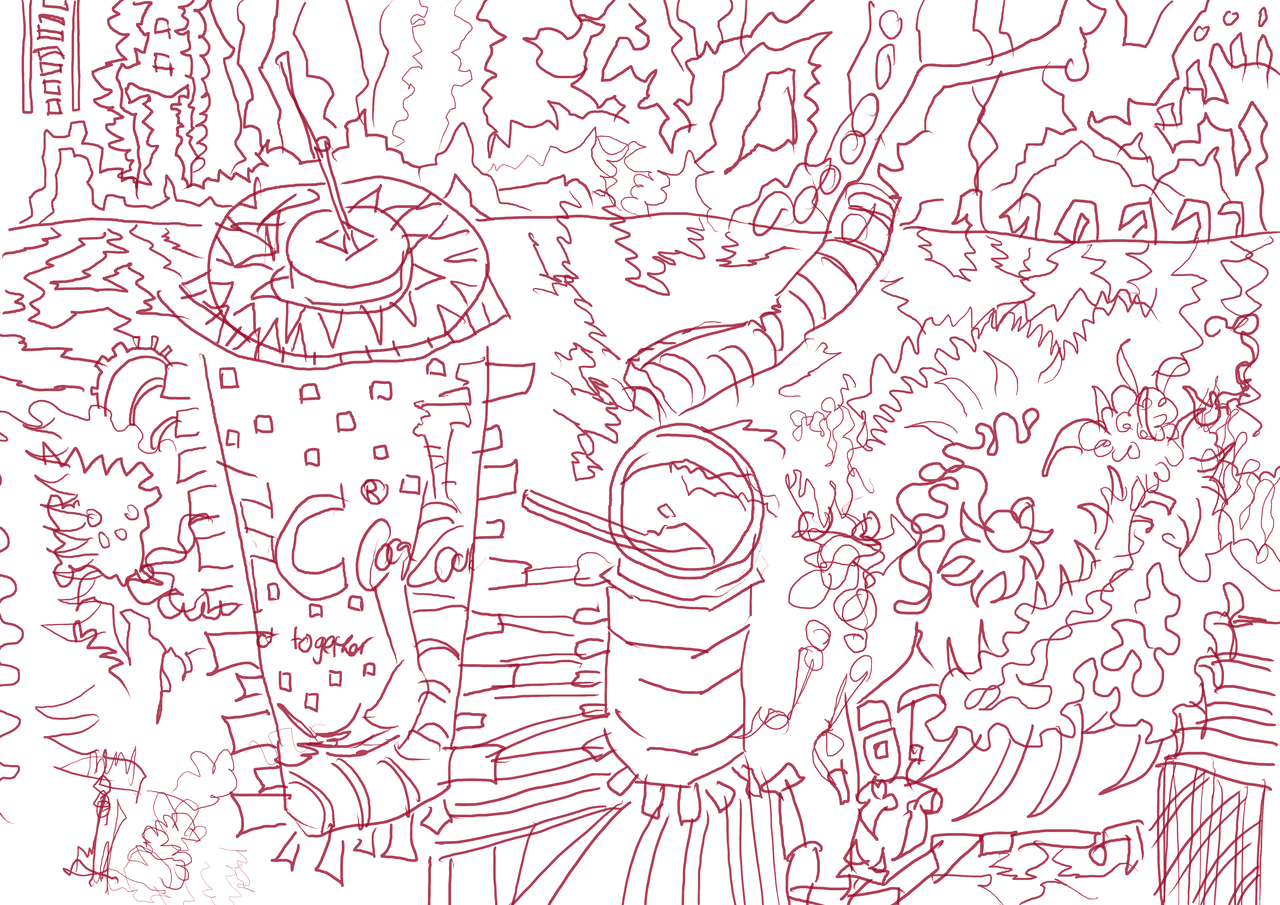 I had KFC for lunch in Matamata. It was a large lunch and I stayed there for sometime and drew - my coke container and bench. It was a cold day so needed to be inside.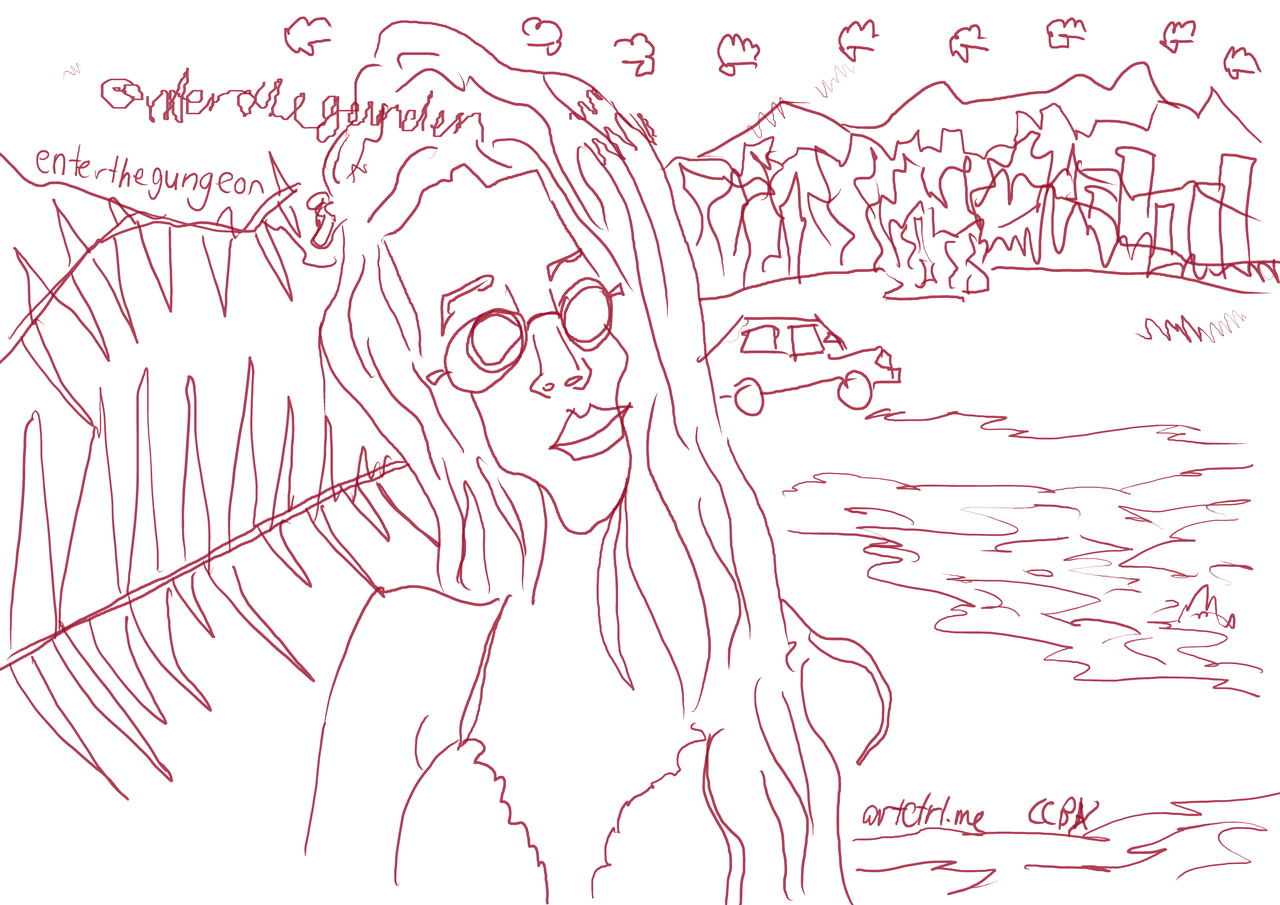 EnterTheGungeon line drawing. The reference was a image on RedditGetsDrawn.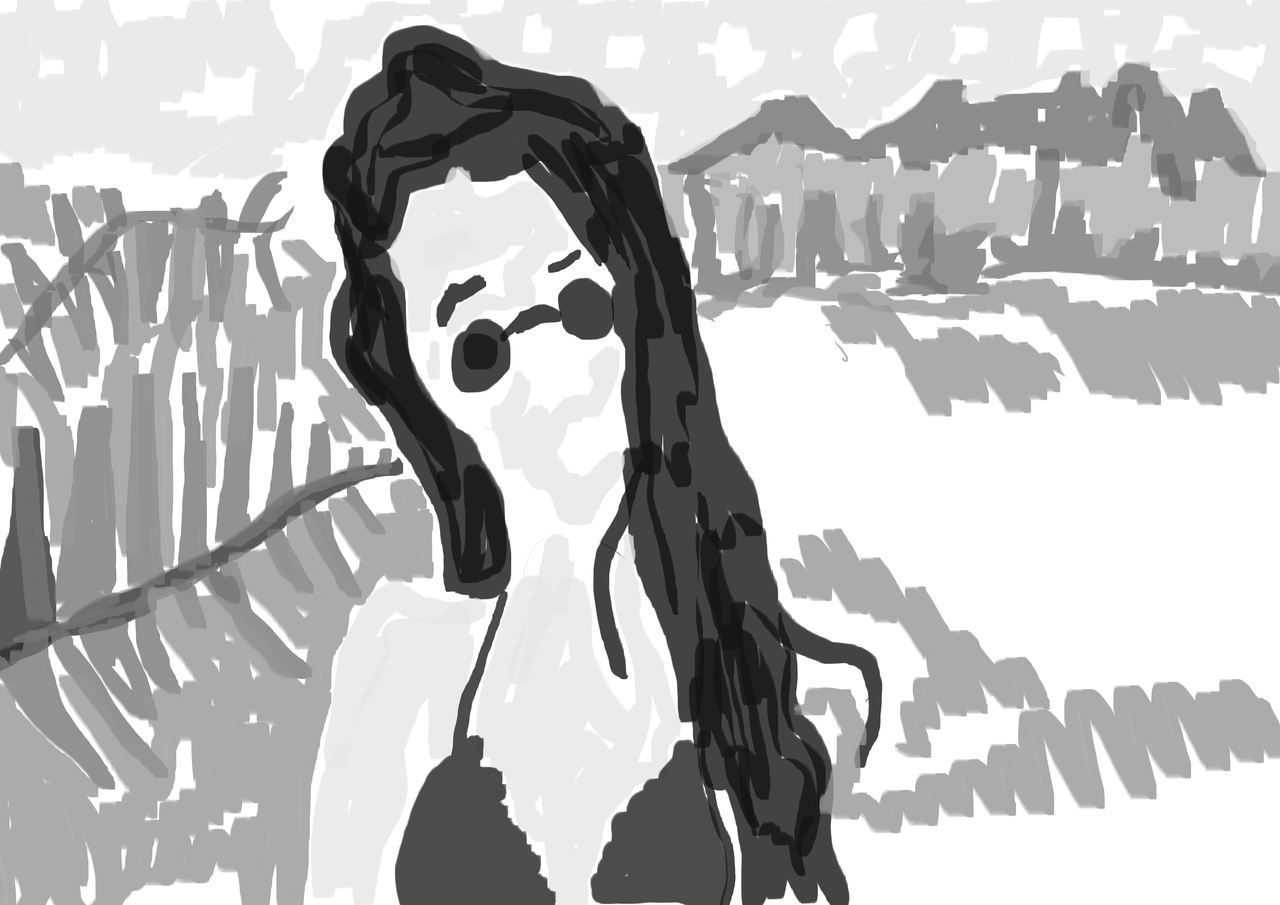 Grayscale layer of EnterTheGungeon. Slightly incomplete but it's good enough.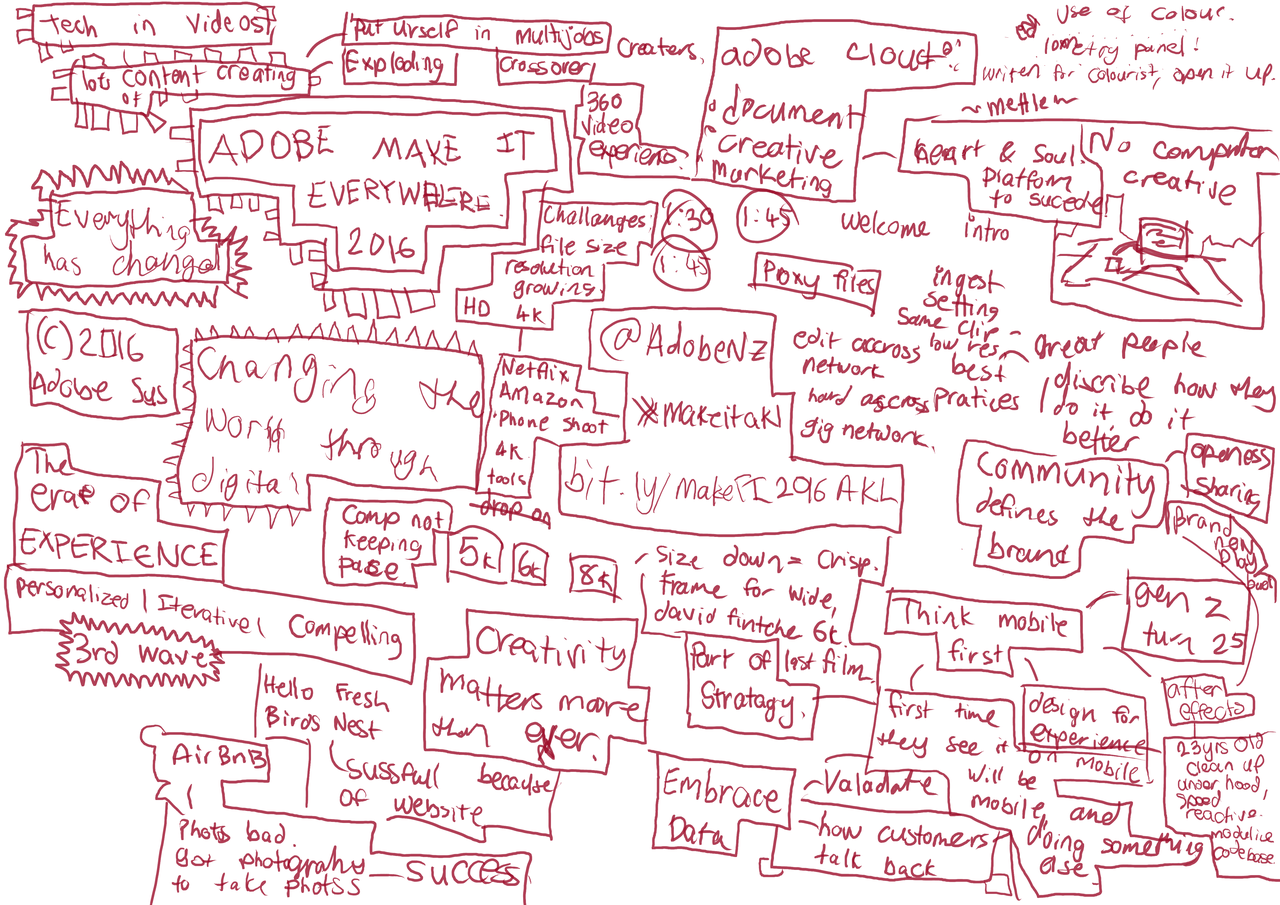 My reason for going to Auckland was to attend Adobe MakeIt. I'm really not a user of Adobe products but I thought I would go anyway - for the experience. I don't attend attended art/design conferences often so it certain was an experience.
At the registration desk they told me that there was a draw wall - an area setup with sharper markies to draw on. I couldn't resist myself and got stuck into it before the conference and during the break. Often people are disturbed by my artwork so it was interested to see the reactions I got. Towards the end of the break I had a woman - Tui talk to me and asked me what I was drawing. I explained it's just a character and a landscape in the background. Adobe were happy with my effort. Shout out to them for letting me attend and whoever idea it was for a draw wall. It helped me. Allot.
During the conference speakers I drew. It was mostly notes from the slides and what they were saying. These first notes were about the video features in Adobe products. There was some impressive features but I think I will just stick to OpenShot.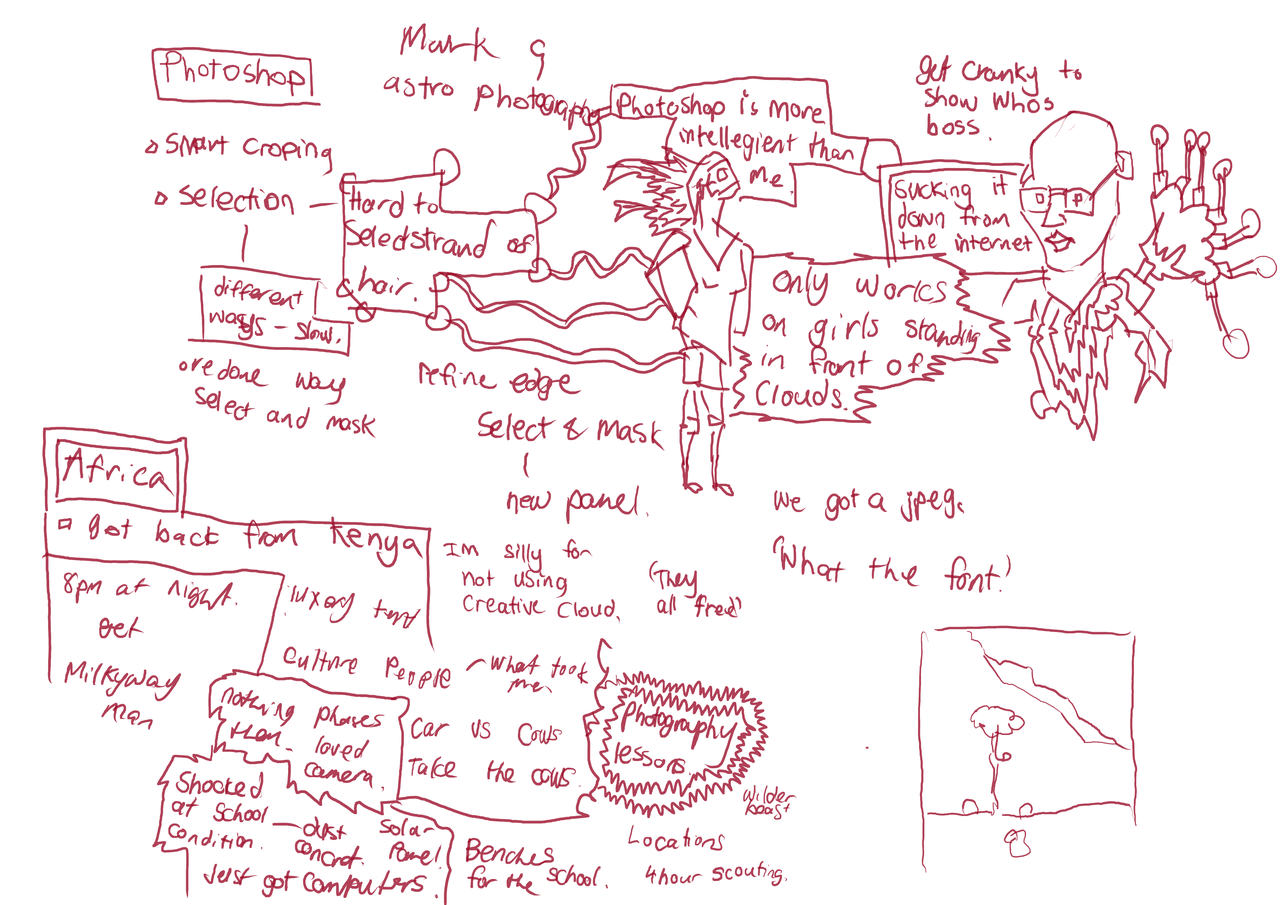 The final notes of the day. The best talk of the day was Mark G who is a astro photographer that talked about his trips to Kenya. His slides were full of photographs and videos and his comments were excellent. My sister would of liked the talk - she's more of a photographer than I am.
I face-palmed several times during the conference, especially at comments such as open, free, alternative download and upload terms (sucking is a thing?). There was allot some good comedy which got a laugh from the crowd.
Would attend again.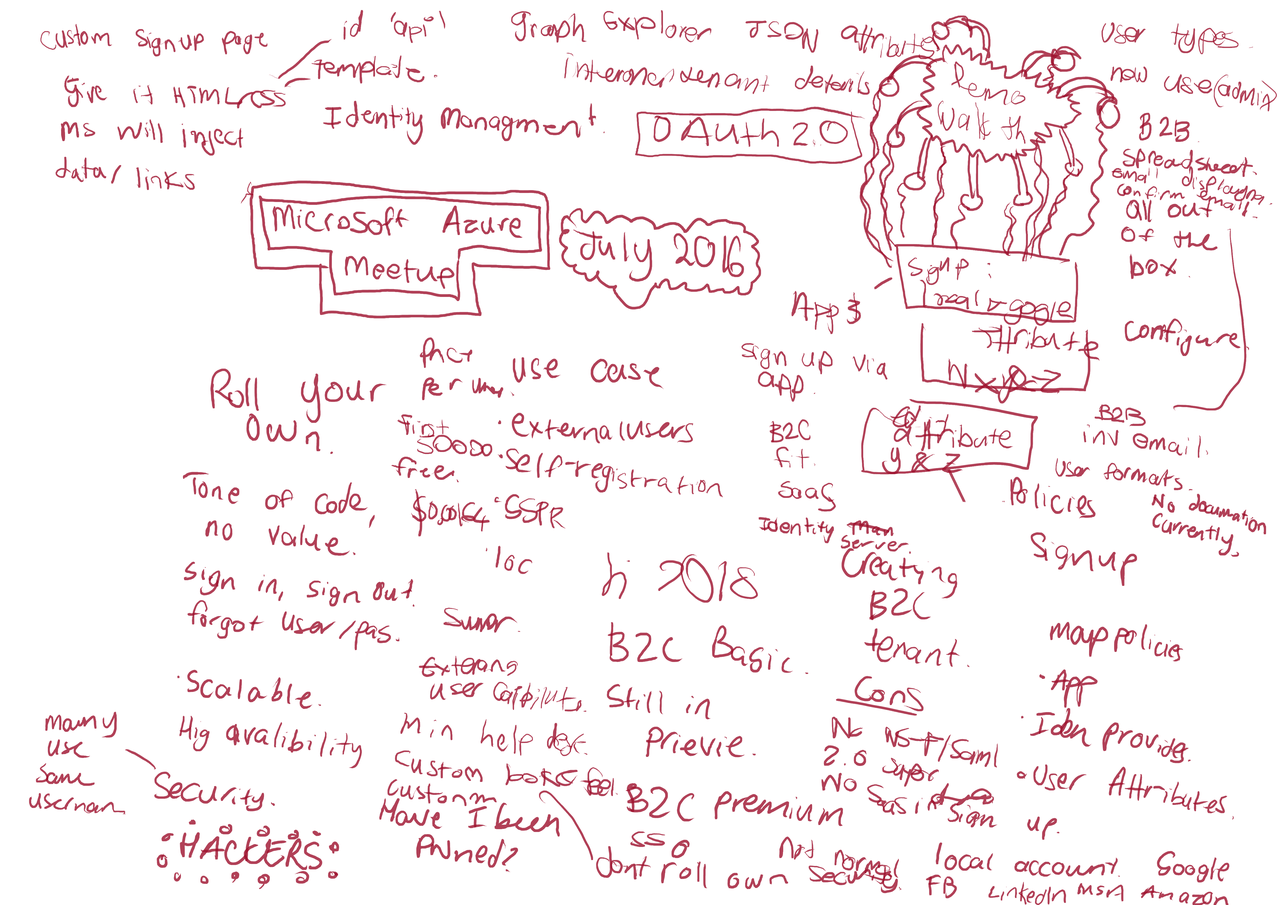 Before attending Adobe MakeIt I went to a lunchtime Microsoft Azure meet up. The topic was b2c aka identity management. This is something of great interest of mine - I've played around in the past with python scripts to log users and passwords. Microsoft supplied an excellent lunch and I had a chance to chat to several people (mostly about my Pi setup). I need a pamphlet to hand to people that ask me about this!
The talk itself was good. It was presented by two people from Datacom. There were slides and a demo followed by questions. Security is a big part of Identity management so when they dropped the H bomb it was funny. It would be better if they used cracking or pwned. Makes more sense. Anyway, it gave me a chuckle.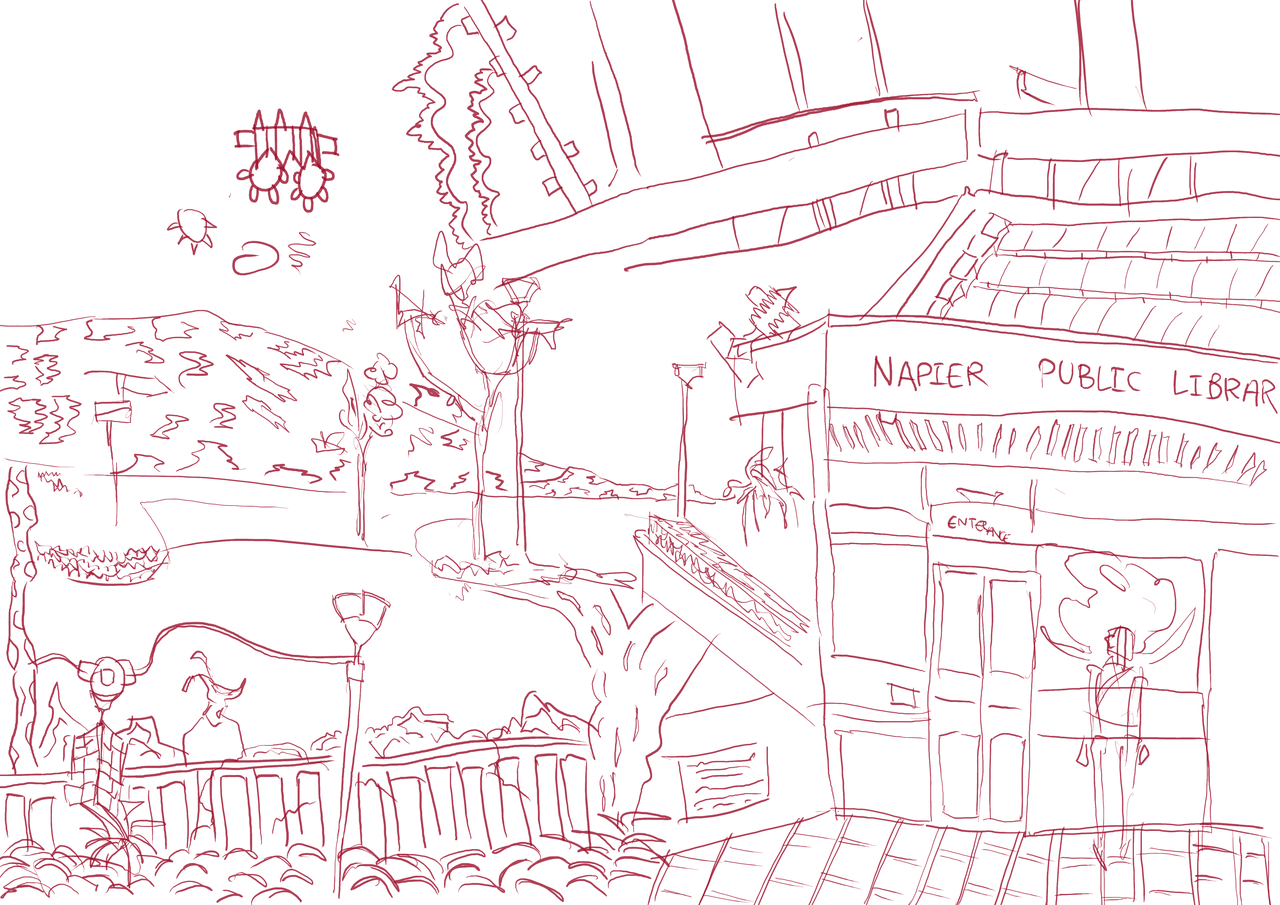 This was the only drawing I did when was in Napier. The wealth was horrible the first two days so I stayed inside and did reading. Finished a bunch of books including War and Peace. Finally on the Sunday it cleared up somewhat and I headed to the city to draw. The waterfront was freezing so I didn't stay for long. I sat outside Napier Public Library for 30 mins and drew.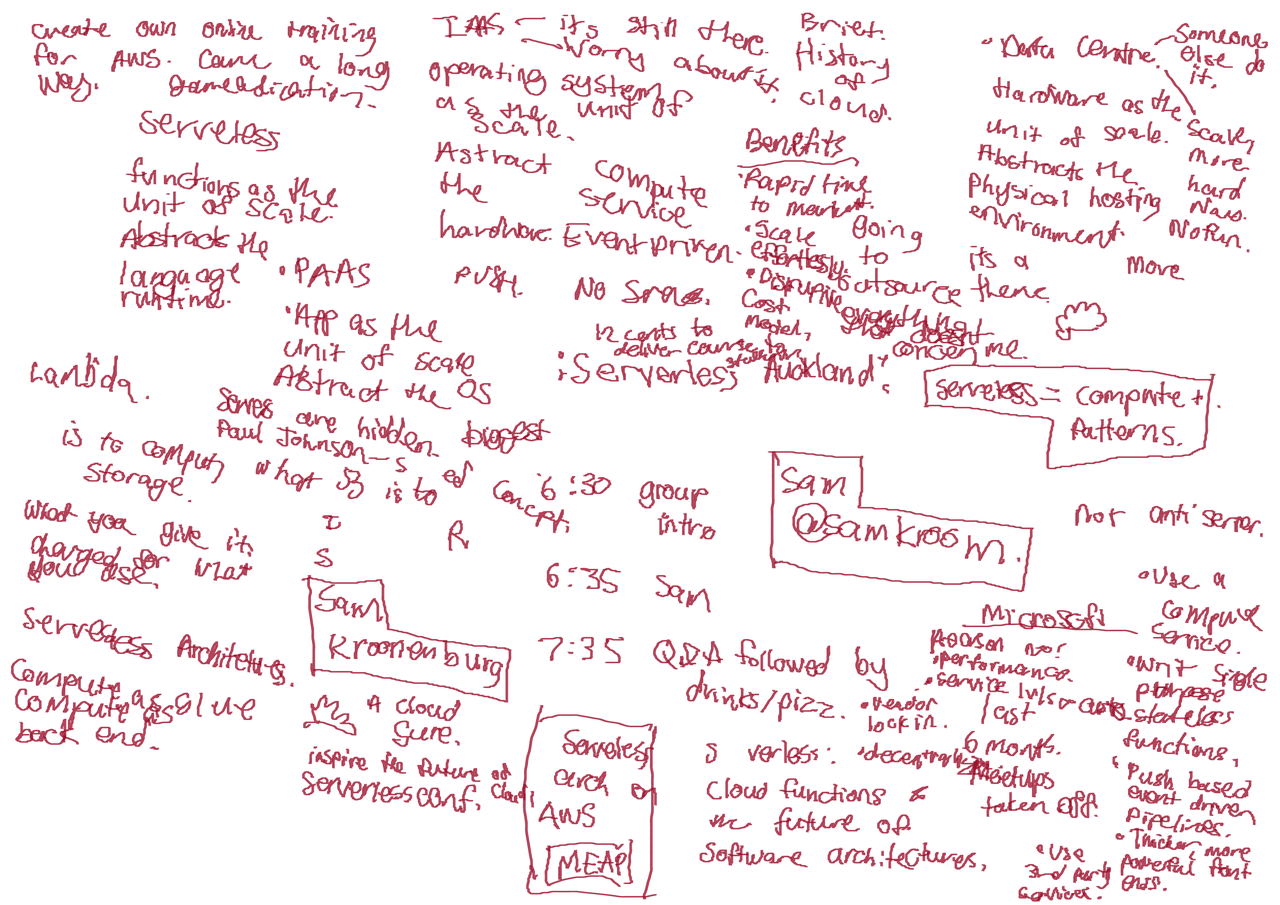 Straight after Adobe MakeIt I attended Serverless Auckland. The speaker was Sam (@samkroom) who gave an overall of what serverless is. These are the notes I took during the meet up. Sorry for the lack of thick to thin. It was an excellent talk and I learnt allot about serverless.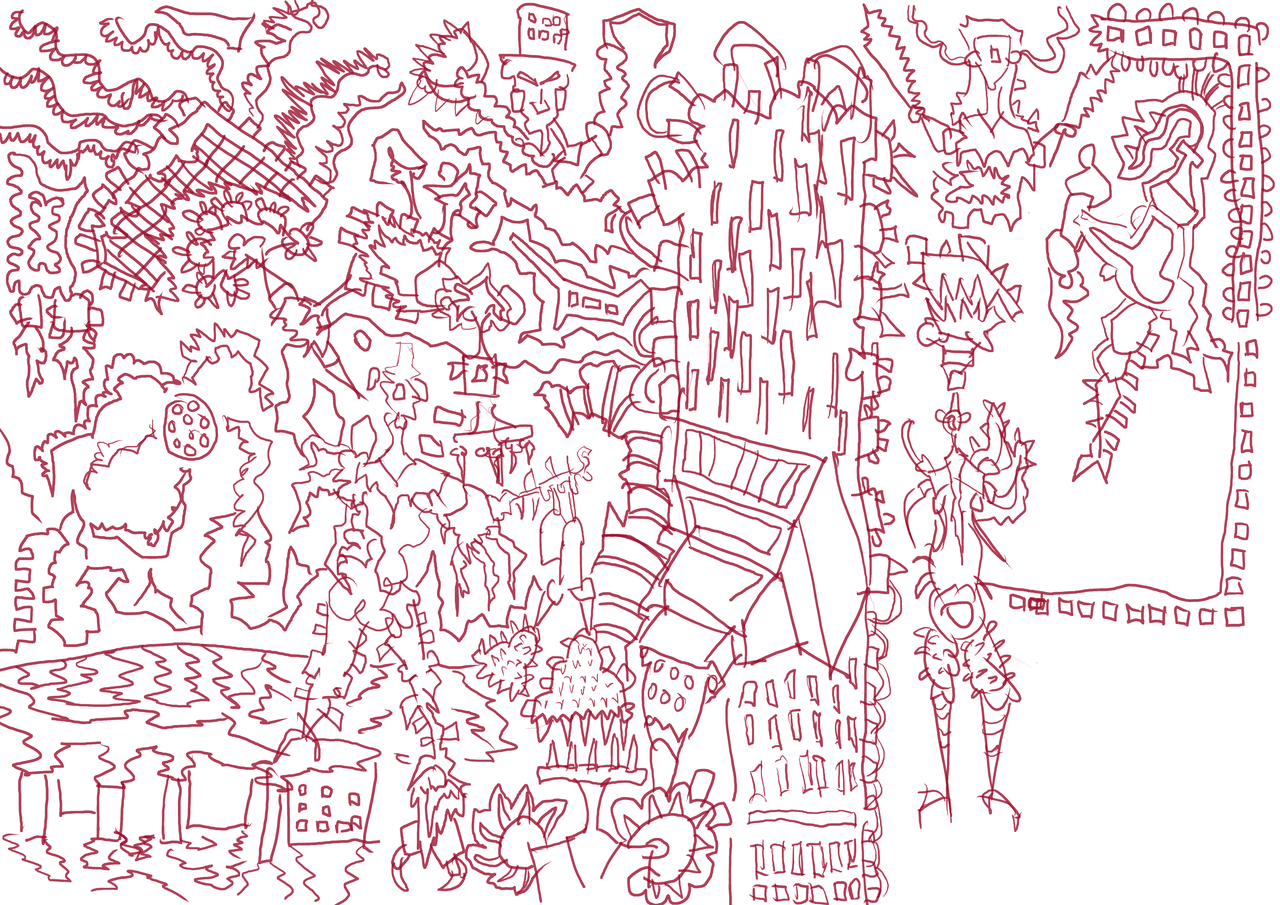 Drawing before the trip.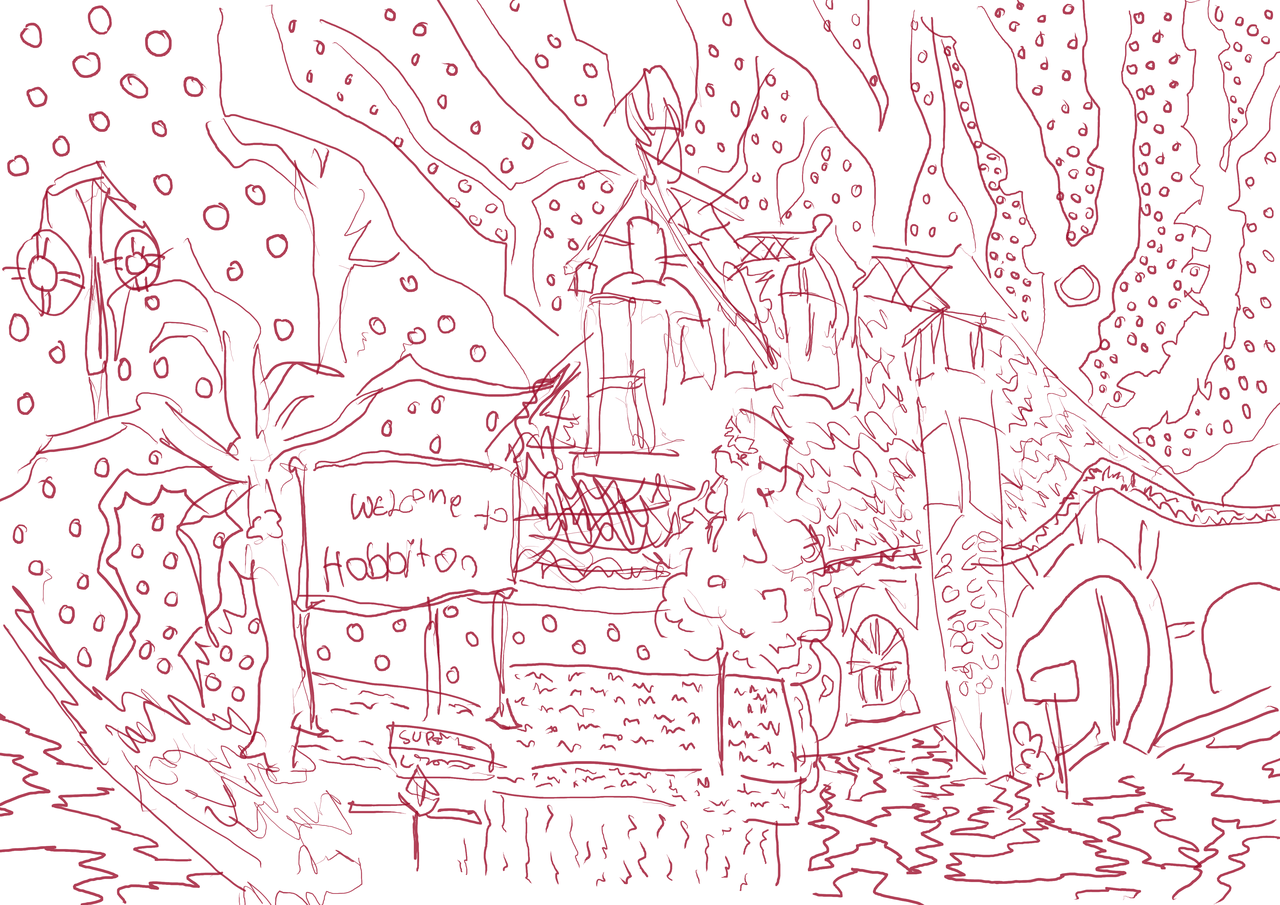 Another drawing in Matamata. Focus on the buildings and trees. LOTR and Hobbit fans would love this town.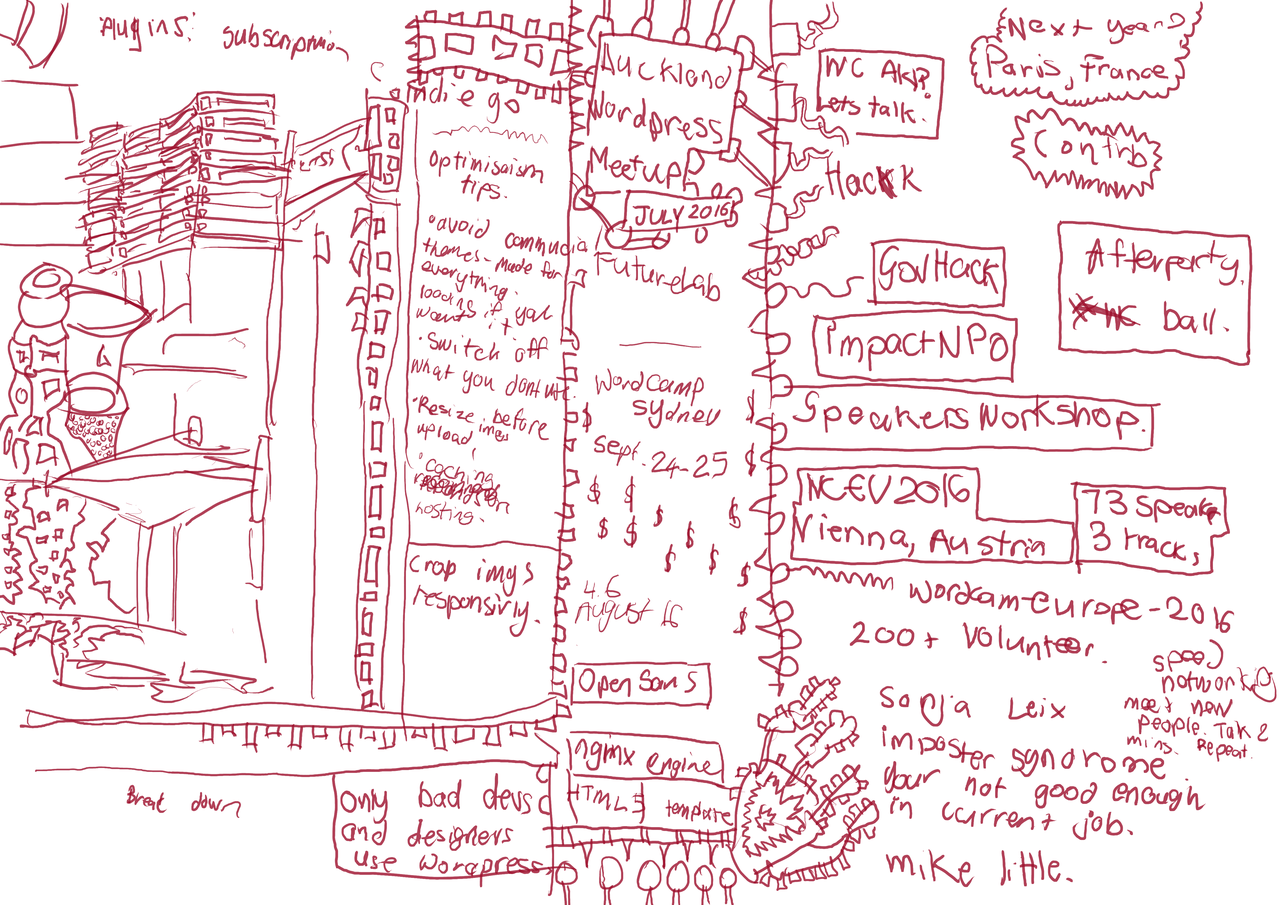 On the night I arrived to Auckland I attended WordPress Auckland (notice everymeetup I've attended I don't really use the products and services). The people were great. There was no speaker instead they held a q&a. I enjoyed it and I was able to push Creative Commons (their site is WordPress) and GovHack.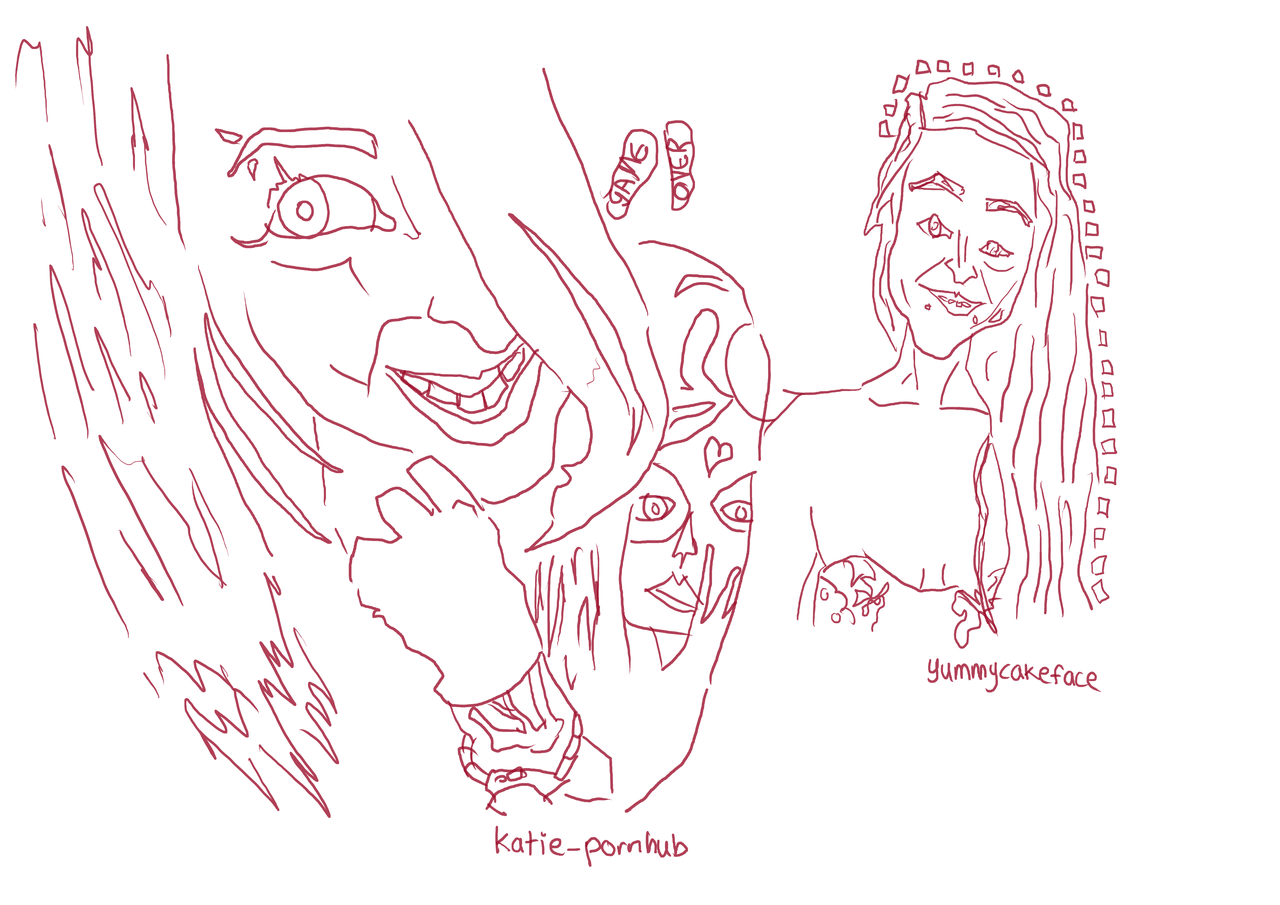 Two portraits. The one on the left is katie_pornhub and on the right yummycakeface. These are both created using reference from RedditGetsDrawn.
That was a big post. No life drawing, but hoping to make it to a session tomorrow. Many thanks to all the organisers and sponsors of the events.