I spent yesterday cleaning my room as I'm moving this weekend. I also had problems with my internet connection. It just wouldn't stay connected – connection dropped every few mins. Town yesterday with my flatmate – Syed. He wanted to look at flats. I found a flat on Wednesday night thankfully. It was a beautiful day in Wellington. I had my sketchpad – popped into the french art shop (hadn't been in for ages) and brought 3 new colored pencils. With so much digital work produced lately it was nice to use colored pencils. The theme on Reddit SketchDaily (I'm kinda falling behind) is Inorganic character design. I didn't do a character – instead applying the inorganic to landscape drawing.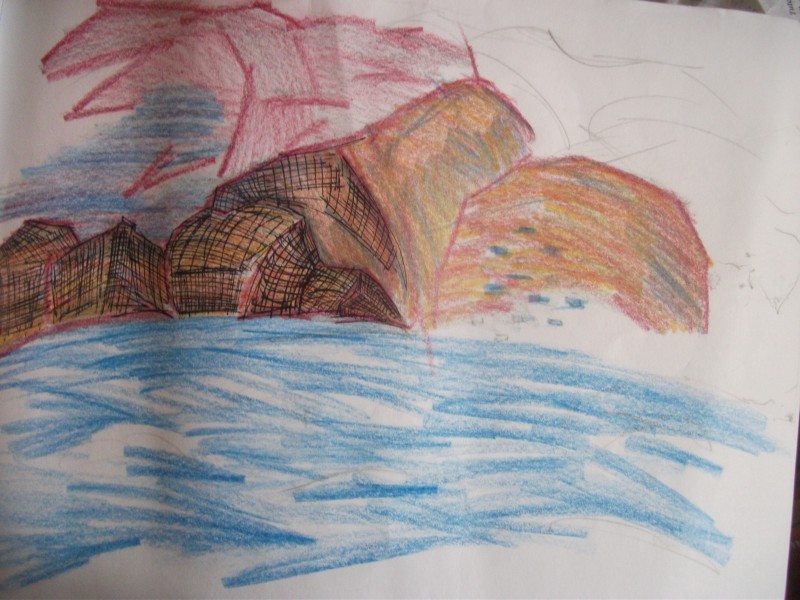 No WIPs or such. I didn't have my camera with me. Camera is fixed now though! Will make it easier to upload drawings! I'll aim to get the life drawing I did on Wednesday uploaded on Sunday. unfortunately I missed out on life drawing Thursday as I spelt in – got my room packed though! This was drawn on the Wellington waterfront. The straight lines created an inorganic shape to the hills! I reinforce this further I used the pen, experimenting with straight lines and crosshatching.
Sketch of a couple of people in Wellington. Some foliage in the scene, taking it beyond just the two figures. Certainly want to continue this in the life drawings this term. Expect to see more drawings soon! Plus I'll keep working on digital works, but maybe not as much as I have been this month and a half.